Travel Nurse Career Adventures in the Pacific Northwest
We caught up with Rhonda Ward, R.N., who is currently on assignment in Juneau, Alaska.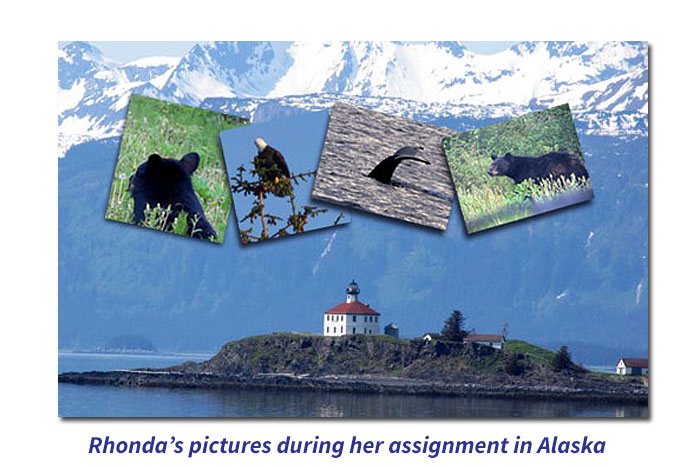 An Exclusive Travel Nurse Interview
It was our pleasure this summer to catch up with Rhonda Ward, R.N., who is enjoying a travel nurse job in Juneau, Alaska right now. A registered nurse for over 20 years and currently working in Endoscopy, Rhonda opened up about the travel nurse lifestyle, and why it's so special.
AT: Is this trip to Alaska your first travel nurse assignment?
RW: No, this Alaska travel nurse job is my second, but my first with American Traveler. I'm really liking it so far and would love to extend, maybe work in a Hawaii nursing job next. I've had the opportunity to see a lot of the Pacific Northwest this summer, and that's why I wouldn't mind staying.
AT: Can you tell us about any day-trips or short vacations you've been able to do while on assignment?
RW: Actually, Seattle's not too far, so I accepted an invitation to meet up with Jennie Rayner over the 4th of July weekend.
AT: Hmmm…Jennie Rayner. That name sounds familiar! Wait a minute! She's one of our travel nurse recruiters. Are you two friends?
RW: Yes, we are! Jennie's my recruiter, and I got to know her while she was helping me through the placement process. I was really glad that we had the chance to tour Seattle together. We walked along the waterfront by the piers, saw them throw fish at Pike Place Market, had lunch at the Hard Rock – I felt like I'd known her forever, even though it was the first time we'd met face to face.
AT: Do you have lots of great photos?
RW: Jennie's teenage daughter tagged along that day and took some awesome photos! I'm looking forward to showing them around. We packed in quite a bit before I flew back to Juneau.
AT: Are there any standout Alaskan experiences you'd like to share?
RW: Yes! All the wildlife I've seen, like orcas, grizzly bears and eagles. I try and get out for a hike every chance I get – I love the trails and glaciers –and I love sharing my experiences with the other great travel nurses I've met. I've also met lots of fisherman out here. One even treated me to a gift: a whole smoked salmon that I had to stow away in my fridge (made much easier by having nearby housing).
AT: Well, Rhonda, it's been fun. Let's wrap up with the best advice you can think of for R.N.s interested in becoming travel nurses.
RW: Don't be afraid. Just come on out and get your feet wet. You won't be sorry!
Want to get YOUR feet wet? Call 1-800-884-8788 or apply online today; with compact nursing licenses and so many travel nurse jobs and great locations to choose from, you could have your dream job anywhere in the USA! We look forward to hearing from you!
Monday August 01, 2011