Tips for Travel Nurses in Hurricane Prone Areas
For those living near the Atlantic Ocean and Gulf of Mexico, hurricanes and tropical storms pose a very real threat—especially as hurricane season gets underway.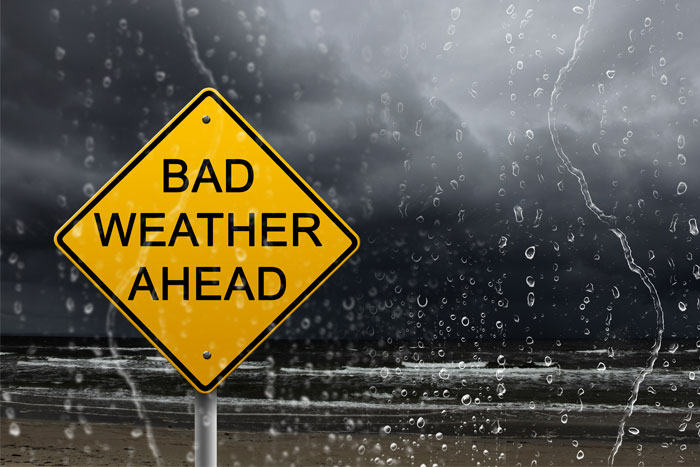 It's Hurricane Season, June 1st—November 30th!
Here's What You Can Do to Prepare
For many healthcare professionals in nursing and therapy jobs across the United States, hurricane season registers as a far-away news story; however, for those living near the Atlantic Ocean and Gulf of Mexico, hurricanes and tropical storms pose a very real threat—especially as Hurricane Season gets underway. National Hurricane Preparedness Week, May 26 through June 1st, is a good time to take stock of emergency resources in your home and community. These are a few guidelines for setting up an emergency plan.
Build up Your Water Supply: A gallon of water per person, per day is recommended. Having a 2 week supply of bottled water on hand is highly recommended. In preparation for a serious storm, it's a good idea to clean and fill your bath tub, in case a power loss cuts water off. You can use the water to wash up, as well as flush toilets.
Make Sure you Have Plenty of Food and a Can Opener: A supply of non-perishable food that could get a family through at least 5 days is recommended. Consider canned nuts, beans, fruits, vegetables, soft drinks and power bars.
First Aid: This is a no brainer for registered nurses and therapists; in any case, here's a  Hurricane Shopping Guide to get you started.
Gather Disinfectant Supplies, like bleach. Remember, if you can't boil your water during a storm to disinfect it, you can dilute up to a gallon of it with drops of regular household liquid bleach. EPA has specific instructions.
Take an Inventory of Your Possessions, including important papers, medical records and prescription medicines—all should be kept in a waterproof container, and taken with you if you evacuate.
Invest in an Emergency Radio, LED flashlight and plenty of batteries: This about.com article has a great inventory of different Eton Emergency radios that you might peruse and buy online. For a trusty flashlight in times of trouble, Home Depot has a varied supply of emergency kit flashlights and lanterns.  For those devices we rely on, but cannot use when power lines are down, power them up with a stockpile of batteries. It never hurts to recharge the ones you have on hand.
Have Cash on hand: In the event of a major storm, ATMs may not work, and banks will be closed. Cash should ideally be small bills, smaller than 20s—just in case you want to purchase something and the person selling can't make change.
Make sure windshield wipers are working properly and you have a full tank of gas. This last emergency measure goes without saying.
Check with your Unit Manager/Director for What Your Department has for Their Hurricane Plan. Many units have storm staffing guidelines for those staff working before and during the storm, as well as staff that report to the facility and relieve the others after the "all clear" has been given. If you are assigned to work before and during the storm, you should also bring most of the above listed items with you to the facility. You do not have to bring food, but will need to bring change of clothes and possibly some sleeping gear – again check with your unit manager/director on what staff need to bring.
American Traveler Staffing Is Here for You, Rain or Shine
Besides perusing the CDC's site that provides Hurricane Information for health professionals, Florida travel nurses and R.N.s working in the Carolinas are encouraged to reach out to staffing agency consultants for helpful information at 1-800-884-8788 in the event of a storm. If not your consultant, do make contact with someone as soon as the storm passes, to let them know you are alright. Our customer service is, as always, available to you 24/7. We want to ensure that you are safe, not just in the approach of a storm, but in its aftermath, too. Stay safe and dry, travel nurse friends!
Friday May 24, 2013