Online Continuing Education for Registered Nurses Made Easy
For busy registered nurses, earning continuing education units (CEU) via online courses is the preferred method !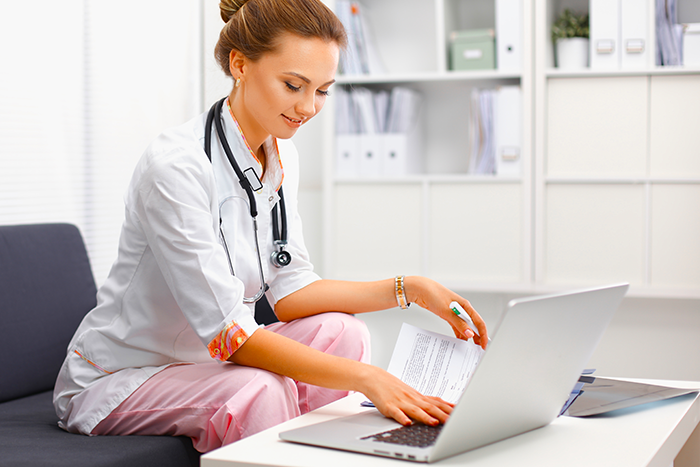 Find Cost-Effective Ongoing Education with a Wide Topic Selection!
For busy registered nurses, earning continuing education units (CEU) via online courses is the preferred method. Whether R.N.s work as permanent healthcare staff or travel nurses, online education is a must, helping them keep up with state licensure requirements, as well as staying competitive; but beyond the necessity of continuing education, there's also the draw of super convenience and exposure to cutting edge treatments and hot trends in nursing practice. In essence, CEUs are the fast track to improving patients' safety and care.
Talking to Our Registered Nurses About CE Direct
Travel nurses and allied healthcare professionals benefit enormously—in their own living rooms—from unlimited (and free!) CEUs. R.N.s and therapists are eligible to register for CE Direct and may start earning continuing education credits now! The curriculum includes more than 500 courses; registered nurses and allied healthcare staff may choose from an online library of courses, with popular topics that sharpen their clinical skills and knowledge in specialized healthcare careers, like telemetry jobs, emergency and critical care.
Earn Continuing Education Credits in Nurse Leadership, Clinical Care and Development
American Traveler's continuing education courses are offered through CE Direct's Nursing Spectrum, recognized by the American Nurses Credentialing Center's Commission on Accreditation. Nursing Spectrum provides members of the American Traveler team with a rich array of CEUs delivered in many forms: online, in print, audio podcasts, CE fairs, seminars—even CE cruises and study tours!
The online courses are known for their easy narrative style and graphics, and are in lockstep with initiatives set by your healthcare employer. R.N.s and therapists may register for refresher courses or classes with an advanced practice degree in sight. Busy travel nurses and therapists will also be gratified to learn that, upon successfully finishing each course, they can print a certificate of completion from home. To see a categorized list of courses offered, click on the CE courses link!
Continuing Education is a must for Career Advancement Opportunities
On the subject of continuing education for travel nurses, and for all motivated R.N.s, Clinical Coordinator, Debbie Bacurin says, "Online education credits are ideal for nurses; done at their own speed and time, the R.N. is also free to choose what is most interesting to them from both a personal and clinical standpoint. I can't think of a better way to increase professional knowledge and ascend the career ladder at the same time—nor how to better familiarize oneself with how to get exactly where they want to go in their nursing career."
Continuing Education with the General Practice Nurse in Mind
Other big name providers of continuing education for registered nurses include GE Healthcare, which offers a large selection of online courses, with the general practice R.N. in mind. Described as flexible and convenient by registered nurses who benefited from the curriculum by taking anywhere from 50 to 100 online classes a year, GE is proud to distinguish itself as the only medical device manufacturer dually known for providing continuing education. Popular classes in the GE Healthcare curriculum include Six Sigma Training, clinical coursework and personal development.
Take Off in Your Nursing Career Today!
Want to work for a leading nurse staffing agency that offers free and unlimited CEUs? Our nursing jobs are available in all 50 U.S. states and offer a comprehensive benefits package, including free private housing. With so many adventures to have as a registered nurse or therapist, you want to fit in a top-notch continuing education without breaking a sweat—think how happy everyone will be, when your patients have the very best healthcare possible. Apply online today! or call us 1-800-884-8788
Tuesday January 25, 2011