Nursing Shortage and Job Growth Projections Through 2025
Registered nurses make up the largest segment of the healthcare workforce, which is why shortage predictions from the U.S. Bureau of Labor Statistics (BLS)* point to a possible issues in the future.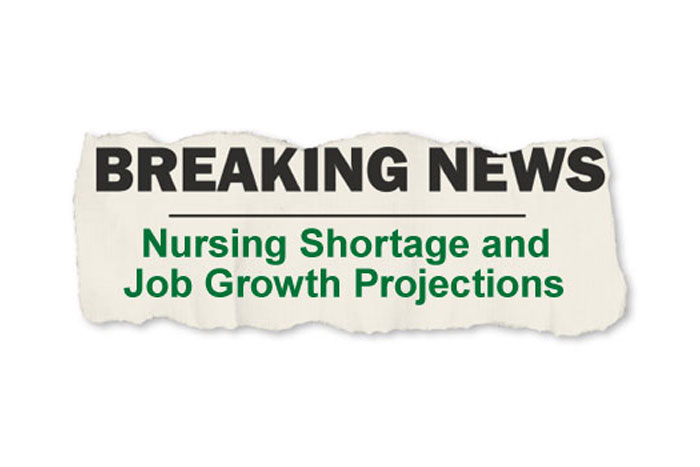 Registered nurses make up the largest segment of the healthcare workforce, which is why shortage predictions from the U.S. Bureau of Labor Statistics (BLS)* point to a potential crisis. The BLS is projecting a huge deficit in qualified R.N.s to fill nursing jobs between now and 2025. The reasons for this are attributed, not just to the surge in Baby Boomers seeking medical care, but in the imminent retirement of the nurses treating them.
Over the next 20 years, the average age of the R.N. will increase and the size of the nursing workforce plateau, as many nurses retire. The hope for filling these vacant positions is that nurses coming into them have strong clinical backgrounds, in graduate and baccalaureate programs in accredited nursing schools.
As it stands now, many American colleges are struggling to expand enrollment in nursing programs, and are getting help in collaborative efforts made by company partnerships, grants, and legislative initiatives focused on hiring more qualified nursing staff—enough to meet the needs of the current population. 30 million plus Americans have been added to insurance roles as healthcare reform takes effect.
BLS' Employment Projections (2010-2020) released in February 2012, cites the registered nursing workforce as the top occupation in terms of job growth through 2020. Here are some of their projections for the year 2020 and 2025:
It is expected that the number of employed nurses has grown from 2.74 million in 2010, to a projected 3.45 million in 2020
The projections forecast a need for 495,500 replacements in the nursing workforce, bringing the total number of job openings for nurses (due to growth and replacements) to 1.2 million
R.N. shortage will grow by 260,000 unfilled jobs by 2025, in part because by then so many will have retired.
Healthcare Staffing agencies recruit travel nursing staff as a way to fill these employment gaps, assured by statistics that show that approximately 4.4% and 13.7% of nurses work in states where they don't reside. These are often nurses from impressive clinical backgrounds, equal to, if not competitive with permanent R.N.s.
Healthcare employers who bridge the nursing shortage gap with travel nurses may have the best solution during the growing pains of American healthcare reform. Hospitals in the following states are seeing the biggest surge in employment:
Full implementation of the Affordable Care Act and expanding roles for nurses in primary care will likely increase demand for nurses and result in future shortages.  Travel nurses are a smart solution to closing patient care gaps while healthcare providers adapt to these new laws and the positive changes they are having on quality of care.
"Improving patient outcomes has always been among the most important goals of nursing, which is why a bigger emphasis on patient advocacy works so well in the evolving nursing jobs we're seeing." said Debbie Bacurin, R.N., Clinical Account Manager.
American Traveler Staffing Professionals Help Close the Gap on the Nursing Shortage
If you're a registered nurse, excited about the changes in the healthcare landscape and want to be a part of it, call 1-800-884-8788 or apply online today for nursing careers that span all 50 U.S. States. You provide the solution to the nursing shortage by sharing your clinical expertise with the patients who need you!
*BLS statistics and other percentages in nursing job growth came from a media relations fact sheet at the American Association of Colleges of Nursing
Monday April 29, 2013