Number of Male Nurses Grows by 56,000 in Two Years
As the demand for skilled nurses continues to rise nationwide, it appears that more men are entering the profession.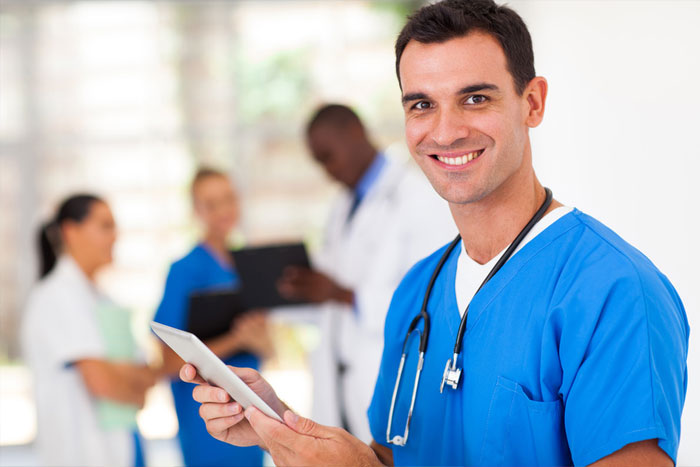 As the demand for skilled nurses continues to rise nationwide, it appears that more men are entering the profession. And why not? The U.S. healthcare industry is one of the few industries that continue to offer well-paying, stable employment. According to an article in Healthcare Traveler, the American Assembly for Men in Nursing (AAMN) pegged the number of male nurses at 58,000 in 1983, less than 5 percent of the nursing workforce. Today, there are 280,000 male nurses or 9.5 percent of the nursing workforce.
Over 27 years, male nurse employment increased by 166,000 or an average of 5,500 per year. But in 2011 through 2012, male nurse employment took a dramatic leap rising by 56,000.
Why the Large Leap in Male Nursing?
There are a number of causes for the large leap in male nurses such as gender diversity programs and recruitment drives by various healthcare organizations. But it doesn't explain a ten-fold increase. For that, many are looking at the economic recession as the main reason for men entering the nursing profession, like Sean an ER RN on a travel nursing job in Florida.
The recession analogy goes like this: Even before the 2008 recession, U.S. manufacturing jobs were being off-shored leaving many men (and women, but manufacturing is predominately men) either unemployed or under-employed. Faced with increasing financial pressure and a bleak manufacturing outlook, many reconsidered their career path and looked for opportunities that offered more stable employment and better pay. Many chose healthcare because it has consistently been one of the top job creation industries adding 1.4 million jobs over 5 years – even in the midst of an economic recession.
Male Travel Nursing on the Rise
Consequently, the increase in male RNs has had a ripple effect throughout the nursing profession including travel nursing. There has been a noticeable increase in the number of men opting for a travel nursing career for a multitude of reasons, but for most it centers on the high pay and attractive benefits package.
"That's what attracts most nurses in the beginning" explains Mary Kay Hull, VP of Recruitment at American Traveler, "travel nurses can earn from $70,000 to $100,000 per year depending on experience and skillset, plus an attractive benefits package that includes free private housing and corporate-matched 401(k). But there are many secondary reasons for choosing a travel nurse career…"
Some of the reasons male nurses have for choosing travel nursing include:
High-Pay and Benefits – whether it's to support a lifestyle, save for a house, or pay off student debt, travel nurses can earn significantly more than permanent RNs on average.
Travel – "It's a large, beautiful country and some travel nurses want to see it all," observes Mary Kay Hull, "young, single male nurses find the travel exhilarating. They're able to travel to new places every few months, meet new people, and it's all paid for…what a great way to see the country."
Gain Critical Experience – Travel nursing is a more flexible career choice in that you can select assignments that enhance your career growth. If you have a plan for your nursing career, travel nursing makes it easier to work that plan.
Family Travel – Male travel nurses with families are able to bring them on assignment, even their pets. Accommodations are arranged and paid for by the travel nurse company.
American Traveler Staffing Professionals is a leading travel nurse and allied health staffing provider serving hospitals and medical facilities nationwide. We place registered nurses, physical therapists, RTs, STs, and other allied healthcare professionals in high-paying short-term travel jobs.
To learn more about travel nurse opportunities at American Traveler, call 800-884-8788 or fill out an online application.
Tuesday July 15, 2014