Medical Tourism Allows FL Nurses to Treat More Global Patients
Sean, an ER RN, originally from PA now working in Florida shares his new and exciting lifestyle in South Florida.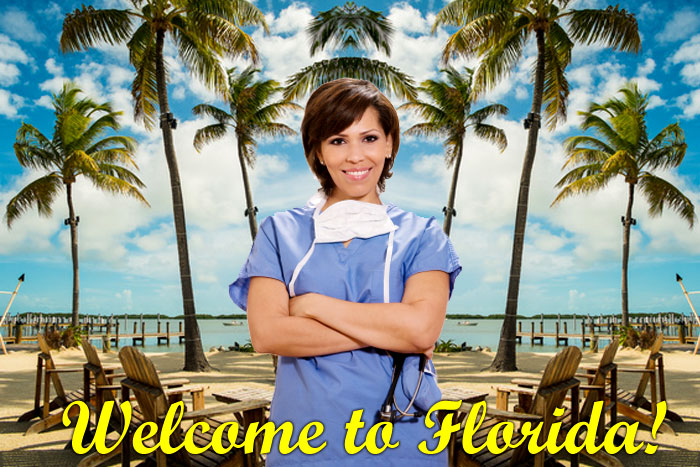 Does Your Hospital Promote Healthcare Vacations?
Florida RNs aren't the only people who divide their time between the hospital and sandy beaches. Now, some of their patients are combining healthcare and site-seeing in an industry that's gathering strength in the Sunshine State: Medical Tourism!
"Florida Travel Nursing Jobs Up Close! See what the Sunshine State has to offer!"
Sean, an ER RN, originally from PA now working in Florida shares his new and exciting lifestyle in South Florida. Watch this quick video to learn more.
For Florida travel nurses who like the idea, good news—and with it more patients—might be coming, thanks to legislation under review by the House and Senate with bipartisan support. If the bill (SB 1150/HB 1223) passes, it will require Florida to increase its promotion of medical tourism, with the aid of $5 million a year for the next four years, including $1.5 million in matching grants; these funds would enable Visit Florida, the state's official tourism marketing corporation, to offer bundled medical vacation packages from select healthcare providers. Imagine hospital service packages that include amenities from hotels, restaurants and attractions—patients and their families will feel like they have gone someplace desirable for a high quality of care, at what healthcare providers are working to make an affordable price.
Other legislative proposals are in the balance too, and would work in concert with the medical tourism bill. For example, both the House and Senate are considering a bill that would expand access to telemedicine. That would make it easier for medical tourists to receive follow-up care after they return home. There are also proposals to inject millions of dollars into Florida's cancer centers, which tend to be a big draw for international patients.
Some Florida State Hospitals Are More Like World-Class Resorts
Because of the large number of international patients treated by Florida RNs, the move to make the state a global destination for people seeking top-notch medical care comes as no surprise. Take for example, Miami's Jackson Health System; it already serves an average of 2,500 international patients each year and has renovated an exclusive 2,000-square-foot room designed to look like an upscale airport lounge; patients and their families have Internet access, showers, even a small examining room.
In Tampa, travel nurses may encounter patients who are traveling as well—to the Lung Institute where 40% of patients are from somewhere else, purportedly from Alabama, Mississippi, Tennessee, Georgia—even as far away as Europe, the Philippines and South Africa. Nursing staff at the Lung Institute are used to helping these patients book hotels and secure transportation to theme parks and attractions that dovetail nicely with their healthcare.
Set Out for Adventure in Travel Nurse Careers, Blending in with Medical Tourists Along the Way…
The Medical Tourism Association in Palm Beach Gardens hopes that culturally welcoming touches like these will help make Florida an epicenter for the industry. The Association further hopes that the legislative bill will allocate some of the five million dollars to helping healthcare providers understand the unique needs of international patients, who are looking for more than just medical procedures; they are looking for a good experience, too.
As medical tourism encourages people to go outside of their immediate communities for healthcare, nurses will play an instrumental part in delivering that good experience. Travel outside of your immediate area for high paying and exciting travel nurse jobs in all 50 U.S. states by applying online today!
Tuesday June 03, 2014