Hospital Bosses Spot Strong Travel Nursing Staff in Record Winter
In the Northeastern part of the United States record breaking cold and snow is affecting hospitals.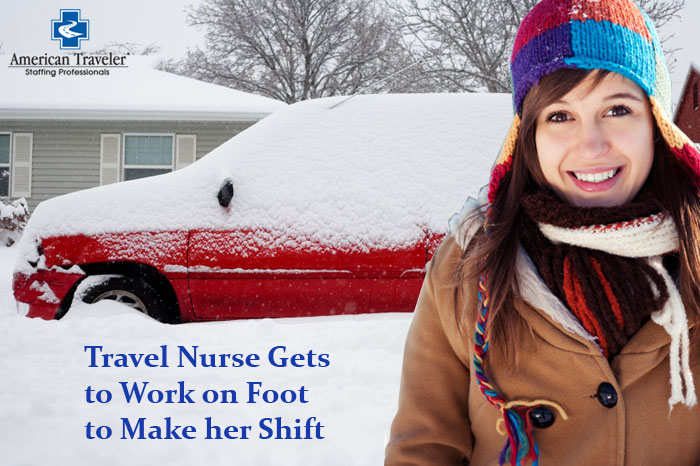 In the Northeastern part of the United States and as far south as Atlanta, record breaking cold and snow does more than create traffic jams and close federal buildings—it's also impacting hospitals, as the hardest hit areas' healthcare facilities endure slow moving ambulances, supply shortages and understaffed cafeterias that make lock-down situations especially hard.
Registered nurses in these situations consistently show a willingness to miss lunch breaks, work late, and leave family members for extended periods, caring for patients and supporting fellow staff; for this they deserve not just recognition, but the highest praise.
Deborah Bacurin, RN, Clinical Account Manager shared: 
"Nursing is that rare profession where it's still commonplace to put everyone else's needs ahead of your own. So when hospital clients on the Eastern Seaboard called in to me after the snow storms, I wasn't surprised to find these healthcare employers had nothing but great things to say about our travel staff. Many of our nurses on assignment worked double shifts to cover for permanent staff that could not make it in due to the road conditions. And other Travelers did what they had to in this unprecedented weather to get to their shifts. Hearing their stories is an inspiration to all our Travelers."
American Traveler Staffing could not agree more, and is excited to present these personal accounts from travel nurses working hospital emergency shifts with great aplomb.
Gerri H., Tele registered nurse in Atlanta, Georgia spent her first week in a new travel nursing assignment surprised by the snow, but never-the-less ready and willing to complete a 24-hour first day! When replacements finally arrived, she returned to her private housing and had the best hot bath ever. Nurses don't come any stronger than Gerri!
Susan G., ED registered nurse in Bethesda, Maryland has a great deal of clinical experience—that doesn't include shoveling snow. This South Texas native was grateful when a neighbor helped shovel her car out of the driveway. Susan's strength and ingenuity helped her report to work just like any other day. Wow, Susan…just, wow!
Christy V., ICU registered nurse in Baltimore, Maryland demonstrated tremendous leadership and work ethic when she spent an extra night in the hospital, just so she could assist staff who had trouble getting in during the storm. R.N.s like Christy are the epitome of what it means to be a good Samaritan, and team leader any healthcare employer would be lucky to have.
Warmest Regards for R.N.s Like These!
American Traveler salutes RN travel nurses in all 50 states who go out of their way—not just to help their patients, but colleagues too; these are the individuals who personalize the healthcare experience for patients, as well as make hospitals a community anchor in a time of need—that comforting place of healing that helps everyone get through the storm.
Friday February 21, 2014