Traveling Healthcare Professionals Fall in Love With Their Jobs
This is a busy time for healthcare professionals, as frigid winter temps sweep the nation it's the perfect time to venture off to a place with plenty of sunshine.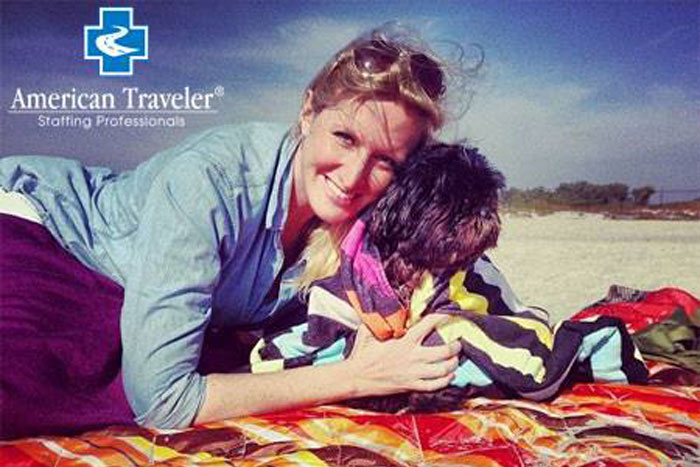 This is a busy time for healthcare professionals across the board, as frigid winter temps sweep the nation—but that doesn't stop these four healthcare professionals from making warm memories during their assignments, in places with plenty of sunshine to go round. Read about their individual experiences in prime nursing career destinations, and how much they enjoy free, luxury private housing while there.
Says Ronda L., Operating Room Tech: "New York is amazing! This is a truly awesome adventure!" Those are big words coming from someone as seasoned as Ronda L., who, as an American Traveler, has already worked in Houston, Texas and Sheboygan, Wisconsin. Her current position in Brooklyn, NY has landed her within walking distance of Manhattan, and she can't get enough of The Big Apple's culture. In Ronda's photos, you'll not only catch a glimpse of her spacious living arrangement, but a sense of what VIP customer care is like when you align your talents with American Traveler Staffing—Katie Kiester is Ronda's consultant and has helped customize this nursing experience so it fits like a warm winter glove.
Halle F., RN, starts working at a top children's hospital in San Diego, "best friend" in tow. Halle's nursing career in California has only just begun, but already she and her adorable dog, "Mayla" are making the most of their hip west coast surroundings. San Diego has much to offer the pair, with long walks along some of America's most breathtaking piers to picnics on the beach. Halle, a Pennsylvania girl, knows how to bundle up and tour the chilly coastline in high style—but it won't be long before the Golden State heats up and she's enjoying mild summer weather in shorts and flip-flops.
Ashly P. RN, sent American Traveler this gorgeous picture, Golden Gate Bridge in the background. For OR nurse, Ashly, vacation pictures captioned "California Dreamin'" seem appropriate. This pretty travel nurse had a chance to enjoy San Francisco on a winter's day just like the song, forwarding a photo over the New Year holiday. Things will only get better for California residents as the temperatures rise, and the mild weather they're so famous for takes hold.
Anne Renee A., Cardiovascular Tele nurse doesn't have to imagine an awesome kitchen and tons of natural light; she already lives it! When it comes to finding ideal private housing for Travelers, Nancy Warner, American Traveler's Housing Manager delivers! Together with Anne's consultant, Mollie Zeitlin, the team found Anne an apartment in Fairfax, Virginia that she truly loves. Pictured in American Traveler's Facebook, one commenter looked at Anne's private housing and remarked: "I hope when I start traveling, I'm this lucky," to which this health professional can be assured, "yes, you will be!"
Start Building Travel Nursing Memories that Warm the Heart Today!
Start adding your unique, adventure-filled nursing memories, like the ones you can see on American Traveler Facebook, by getting in touch with a staffing consultant today.  For R.N.s contemplating hot job opportunities in California this spring and summer, there is ample time to get in touch with a consultant via the phone (1-800- 884-8788), or simply apply online. Come find out what all the fuss is about!
Wednesday February 12, 2014