ER Nurses: How Does Your Employer Fare in 'Door-to-Doctor' Waits?
Immediate access to emergency care is considered the gold standard of a hospital's ED.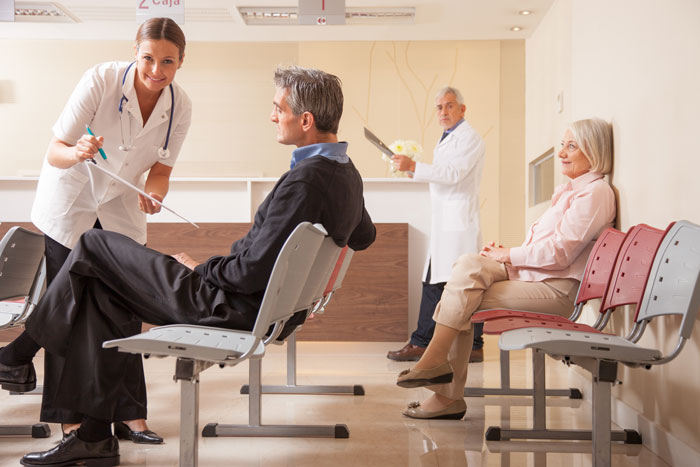 Tools and Apps that are Streamlining Emergency Care!
Immediate access to emergency care is considered the gold standard of a hospital's ED. With Medicare reimbursement rates now partially tied to patient satisfaction, hospitals are eager to shorten emergency room wait times -- so it's no surprise to find hospital billboards across America advertising on-line registration and "why wait" assurances.
U.S. hospitals have come a long way since 2006, when the Institute of Medicine published a critique of the average ED being overwhelmed and fragmented from the rest of the hospital; fast forward to today's healthcare landscape and you'll find its emergency room waiting areas with far fewer people waiting. Hospitals are achieving this via registration that takes place after triage, avoiding hospitalization whenever possible, and adding an observation or short-stay unit where patients can be monitored for up to 24 hours, then released.
Debbie Bacurin, American Traveler Clinical Account Manager says that ED wait time and its effect on patient satisfaction has always been a challenge for ED directors and managers. "My experience as an ED traveler across the country gave me lots of ideas on this, and I was grateful for the opportunity to manage my own Emergency Department. With HCAAPS and reimbursement being a driver here, EDs now have the support and assistance of the entire hospital. More often than not, admissions begin in the ED, so satisfaction and wait time become the goal of the entire hospital and staff."
Hospitals that are Redefining Emergency Care:
ER nurses working in the United States' best hospitals will recognize these healthcare employers as benchmark setters in emergency medicine:
Johns Hopkins Hospital in Baltimore has only private rooms, each with a PC, allowing doctors to document and share information with patients.
The Cleveland Clinic uses a "split flow" model of triage that separates the acutely ill from less sick patients upon arrival, not to make the latter wait, but to put them on a separate track where they are cared for and released without being put in beds.
Holy Cross Hospital in Silver Spring, Maryland provides a separate ED unit where geriatric patients can be comfortable and feel safe.
Ochsner hospitals in Louisiana have added more providers during certain hours when the less acute illnesses and injuries tend to come in.
At Brigham and Young Women's Hospital, nurses now greet patients as soon as they walk in the door. The average ER wait time is just 12 minutes, with a near 100% patient satisfaction rate!
Vanderbilt and Penn State post doctors at the ER entrance to get patients seen and testing started.
How Does Your Healthcare Employer Measure Up? These Tools and Apps Can Help!
Registered nurses know that to perfect emergency care is to seamlessly coordinate with other hospital departments. Find out how your healthcare employer is fairing by clicking on the ER Wait Watcher tool at Propublica.org; this lets you plug in your current zipcode and find the local hospital's average wait before they receive any of the following: consultation with a doctor, hospital discharge, pain medications or admission to the hospital.
SMART PHONE APPS are also figuring in to the patient's tool set for timely emergency care. Interested RNs can find these solutions worth passing on to family and friends.
Inova Health System offers a free app in the iTunes store that provides updates at its 10 emergency centers in Northern Virginia.
ER Texting, a Miami company, sells a service that lets consumers send a text to 4ER411, punch in their ZIP code, and find out what to expect at some 235 participating ERs.
For $9.99, about half of Tenet Healthcare's 50 hospitals allow patients to view and book available appointments online, waiving the charge if they're not seen within 15 minutes of the time
Find the Best Nursing Jobs with American Traveler Staffing Professionals!
Consultants at America's #1 staffing agency align your talents with healthcare employers who are rethinking emergency department design and delivering better medicine because of it!
**Information for this log was taken from the following article:health.usnews.com.
Tuesday April 22, 2014