Travel Nursing Agency - Community Outreach
We believe our travel nursing agency should play a role in our local community and in the communities in which our travelers work.
American Traveler Reaching Out
On Behalf of Healthcare Professionals Working Through the Holidays, American Traveler Donates to Hunger Relief
December 2015 • At this special time of year, we are more grateful than ever for our travelers' dedication to saving lives and healing others. Healthcare professionals across the nation are working through the holidays to help those who need it most. With our sincere admiration and gratitude, we wish these dedicated professionals everywhere a wonderful holiday season filled with joy, peace and happiness.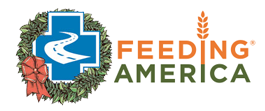 To celebrate the season, American Traveler has joined in the fight to end hunger in our country. On behalf of our valued travel nursing and allied clients, we have made a donation to the non-profit organization, Feeding America. Each year, Feeding America provides food assistance to over 46 million people facing hunger in the U.S., including families, children and seniors. To learn more or to make a donation, go here »
Thank you for making a difference!
American Traveler Staffing Professionals Making Strides to End Breast Cancer
On October 24th, 2015, the American Traveler team was ready for the American Cancer Society Making Strides walk in downtown Mizner Park, Boca Raton, FL.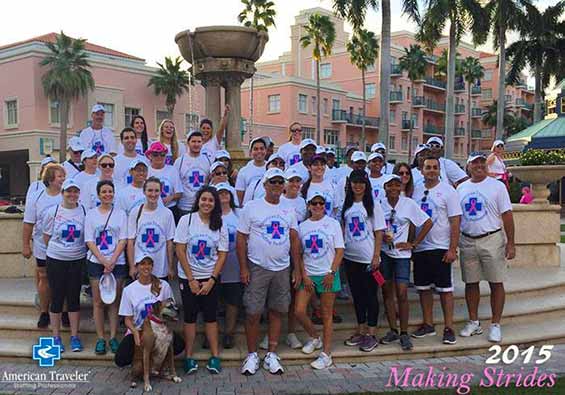 On October 25th, 2014, thirty of our staffing professionals at American Traveler showed their commitment to fighting breast cancer by walking in the American Cancer Society's annual "Making Strides" event; held all over the United States, the 5K donor walk in South Palm Beach saw an amazing turnout of 20,000 participants! Read more about the proceeds raised by the "American Traveler Thinks Pink" Team!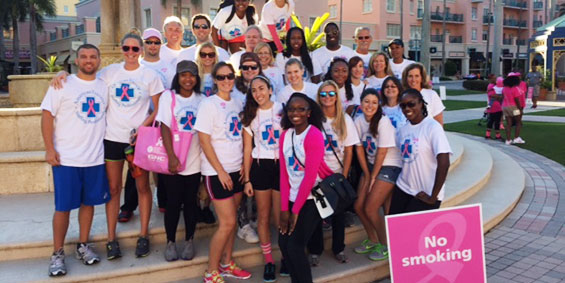 American Traveler Hosts 3rd Open Flu Shot Clinic!
October 1st, 2015 - The American Traveler corporate office in Boca Raton, FL invited members of our team to get vaccinated and stay healthy during the 2015/2016 flu season. See pictures and read more about our Flu Shot clinic.
Disaster relief for countless crises (tornadoes, spring floods, wildfires and more)
May, 2011 - On behalf of the nurses who are caring for the victims of the deadly tornados and storms that have recently struck the southern U.S., American Traveler has made a donation to the Red Cross. If you, too, would like to support the many healthcare professionals who are helping out in these hard-hit communities, you can find out how to help below. Please go to the link below to offer your help:

Haiti Relief Fund - Food for the Poor - donations desperately needed
To date, American Traveler corporate employees have donated over $1,000 to Food-to-the-Poor for Haiti relief. We urge everyone to help in any way possible and continue to support this cause. Please go to any of the links below to offer your help:

American Traveler Joins the Fight to End Hunger
One in eight Americans is fighting hunger today. During the 2008 holiday season, American Traveler joined in the fight to end this national struggle by making a donation to the non-profit organization Feeding America, the nation's leading domestic hunger-relief charity.
We are supporting this important effort on behalf of our valued travel nursing clients.

We Made Strides Against Breast Cancer
American Traveler corporate employees, spouses, children, and friends walked again for the American Cancer Society to heighten breast cancer awareness and forever silence the words, "You have breast cancer." The participation and turnout was amazing, as more than 80 percent of corporate employees either walked or contributed to the cause. As anyone in attendance will tell you, the camaraderie was warm and the window shopping along the route rigorous.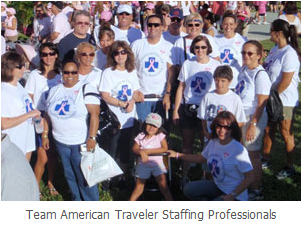 American Traveler was ranked one of the top ten local corporations in total contributions.  Because of your efforts, lives are saved every year!
"American Traveler was one of the highest fundraisers among several corporations and teams. Thousands of volunteers walked and raised close to $200,000 locally this year. We should all be very proud to have teamed up for this worthy cause."
American Traveler is committed to making environmental awareness an integral part of our performance goals.
The latest updates on special events, seasonal messages, holiday news, and featured promotions from American Traveler
You may also be interested in ...