Travel Nurse News - Male Nurses
Male Nurses Earn Up to 100 Percent More in Travel Nursing Jobs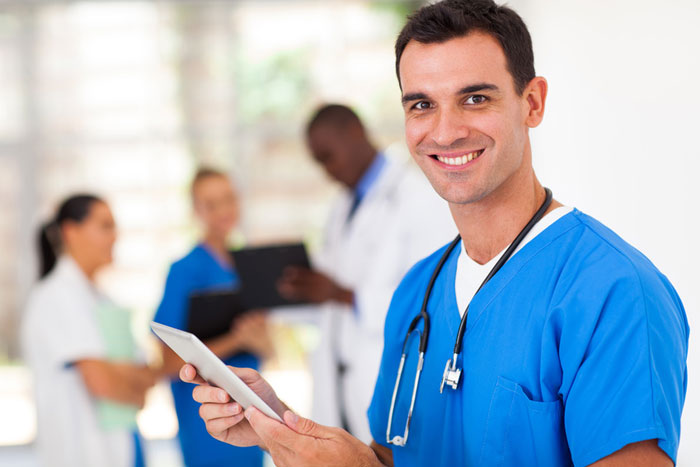 Male Nurses Earn Up to 100 Percent More in "Travel Nursing Jobs"
Although men comprise less than 10 percent of the nurse workforce in the U.S., travel nursing remains a high-paying alternative for men seeking the adrenaline and personal fulfillment of other civil service and emergency jobs and want to stay close to home.  
High-pay and perks at American Traveler lure men to the profession.
Whereas the median salary for fireman and EMTs is somewhere between 30K and 50K a year, travel nurses can earn between $70,000 and $100,000 depending on assignment. Lucrative travel nursing jobs located in all 50 States American Traveler include private housing and health insurance, a corporate-matched 401(k), and bonuses.
"At first I was attracted to travel nursing for the money, but it fit's in perfectly with our goal to raise children and be near family," said 28-year-old Wisconsin travel nurse Eric D.
As a new graduate, one travel RN pursued nursing fresh out of high school. Family and friends agreed that there were plenty of jobs and the pay was good. At age 21, Eric graduated with an Associates Degree. At 24, he started traveling. And although his first travel nurse assignment to California was what really got him hooked, the RN now commutes as a travel nurse in Eau Claire and comes home every night to wife and baby.  
"Travel nursing is a major contender in terms of pay and benefits for men looking to serve the community and help others in time of need," said Recruitment VP Mary Kay Hull.
A travel nurse job in Critical Care or at a Level III Trauma Center can be every bit as action-packed and essential to saving lives as that of a firefighter or paramedic. Men inclined to this type of service not only find superior pay and benefits in travel nursing with  American Traveler, but can work fewer hours, have more control over their schedules, and can choose the type of Critical Care travel nurse job they prefer—whether it be working with adults in Emergency Departments or Cardiac Care Units, or caring for children in Pediatric ICUs.
It takes a certain type of man to be a nurse," said Eric. "... personality, compassion, the desire to care for others."
Men Find Opportunity and Career Growth in Travel Nursing
Just as American Traveler hires only the best travel nurses and allied health professionals to staff top-rated hospitals across the U.S., the nation's leading travel nurse firm is just as particular about who works at corporate. The company prides itself on hiring experts with diverse backgrounds and a penchant for detail.
Interestingly enough, the proportion of men to women working at American Traveler is similar to that of male nurses in the travel nursing field—roughly 10 percent. The men of American Traveler are a rare breed, because at any time they can find themselves surrounded by high-functioning female professionals driven to move operations forward. Although others may find this attribute intimidating, the men of AT consider it "paramount to success in healthcare staffing."
American Traveler jobs are fulfilling and lucrative
Men and women work side-by-side in all departments at American Traveler: administration, accounting, operations, IT, recruiting, marketing, housing, payroll, and senior management. Clients can expect the men of AT to deliver the same impeccable service, detail, and results they've grown accustomed to from their female counterparts.
American Traveler CEO, Robert Bok expects a significant increase in the number of men entering the travel nursing profession over the next ten years. His team at corporate is rolling out a number of innovative business models that target both the staffing and clinical needs of employers and nurse candidates. The company is expanding horizontally and vertically, creating more jobs and securing its place as one of the largest privately held companies in the travel nurse industry.
"You'll find more men coming on board as the travel nurse industry continues to grow," said Bok. "Opportunity and success have lured men to an industry where jobs are plentiful and the pay and benefits are competitive."
Call 800-884-8788 to find out more about exciting and rewarding opportunities in the travel nurse industry. We've got positions for both men and women looking to advance their careers and experience an incredible amount of personal growth. 
Here's a Traveler Who Takes His Pet Along for the Ride
Because the demand for nurses and allied health professionals has exceeded supply in healthcare, hospitals and out-patient care centers across the U.S. are paying a premium for their services. As a result, travel nurse companies such as American Traveler are able to negotiate a lifestyle for their clients not found in the firefighting and EMT professions: 36-hour work weeks, self-scheduling, the flexibility to choose from hundreds of urban, rural, and resort destinations to work, and the ability to travel with family and pets. The travel nurse always goes home to free private housing at the end of a shift—not a bunk, and not a dormitory.
"So far, my travel experience has been great. The company's housing department provided me a home in a modern, well landscaped apartment complex with plenty of amenities that's only a mile from work." - Collin M. - Travel Nurse
Pictured above is Collin hiking near Big Bear Lake in the San Bernadino mountains with his beloved canine.
American Traveler Client Hospital Feature
North Bay Hospital - Fairfield, California
Area Facts/Things to Do
Fairfield's location and natural amenities are some of the attributes that make it a great place to live. Comfortable temperatures and being situated between San Francisco and Sacramento, offer a strategic location and perfect weather.
Love candy? Visit the famous Jelly Belly factory. Learn how these funky-flavored treats are made! Love beer? Budweiser has a brewery here where you can learn how the popular American beer is made. The best part is the free tasting.
Golf is a favorite pastime in Fairfield. Offering a varied level of challenges and difficulty - whatever kind of golfer you are, there's a course for you here. Those who love nature should not miss Rush Ranch. Hike the marsh trail and see wildlife abound-coyotes, pheasants, waterfowl, otters, raccoons and more.
Enjoy music? The Solano Community Symphony is a wonderful volunteer orchestra composed from skilled local musicians. An outdoor concert series is also available during the summer.
From the basics to gourmet, Mexican to Thai, you will have plenty of choice of both food and cost when dining in Fairfield.
So, come be a part of this vibrant community with respect for its heritage and a vision for the future!
Hospital Facts
North Bay Healthcare is dedicated to helping Solano County be healthy. In 1992, an addition to North Bay Medical Center including a larger maternity department, a larger NICU, and a state-of-the-art CCU, brought them to the current 132-bed capacity.
North Bay is accredited by The Joint Commission. Their Health Education Department has been awarded recognition for excellence in Diabetes Education by the American Diabetes Association. The Cancer Center was accredited by the American College of Surgeons' Commission as well.
Travel Nursing Housing Accommodations - Fairfield CA
Our travel nurses love their housing in this brand new complex with great amenities! Bridgeport Ranch offers executive business center with computer and Internet access. Lush landscaping with BBQ and picnic area. A resort style pool and top of the line equipment at their fitness center. Plus much more!
Traveler Times and Reflections
Having Fun in the Sun
American Traveler, Heather S., RN, Shares Her Photos
Hello,

I've been very busy down here in Miami! I am still working on my Master of Science Nursing, so that keeps me pretty busy. The hospital that I'm working at is definitely an experience. These girls are very entertaining, and keep me guessing at every turn, it's a very different style of practicing medicine. Yet, I've agreed to renew my contract, so I will be here until August!

I've also had several visits from friends, which is always a good time!

I've got soooo many great pictures to share with you all, just remember, if you ever want to come and visit just let me know!

Love ya!

Heather S. - RN Travel Nurse in Miami
Sunday April 01, 2007