Travel Nurse News - Interview Tips
How to Lock Up your Next Travel Nurse Job with a Winning Interview!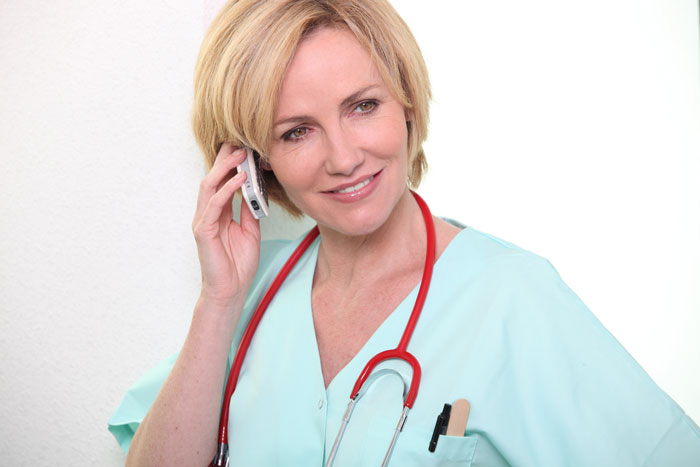 Our Top 10 Tips for a "Got-the-Job" Phone Interview
How to Lock Up your Next Travel Nurse Job with a Winning Interview
Your consultant has arranged for you to be interviewed for a travel nursing job that sounds perfect. You really want the job, and you know you'd be great at it. But first you've got to get hired. And that means successfully negotiating the all-important phone interview. Whether you're new to travel nursing, or you've been traveling for a while, it's always a good idea to refresh yourself on the essential interview skills.
First, the basics. Keep your cell phone with you, and answer it every time it rings. The hospital's caller ID may not display, so bear that in mind around the time you expect the call. If by chance you do miss the call, return it right away. If you've been asked to contact the hospital for the interview, do so as soon as possible. In today's job market, employers have more choices than ever. They're able to make hiring decisions quickly, so don't miss your moment.
Once you've made the connection, keep these Top 10 Tips in mind:
Stay and sound alert. Minimize distractions — tv, radio, pda, well-meaning family members — so you can stay focused. Some people find that standing during the interview keeps them "on their toes."
Do some research on the hospital you're interviewing with. Ask your consultant for information or look the facility up online. Be sure to write down the name and phone number of the travel nurse jobs manager who's doing the interview. Using the manager's name once or twice during the interview can help establish a more engaged conversation.
Stay on topic and answer questions fully and to the point. Avoid casual conversation and conduct yourself professionally.
Know your resume and skills checklist like the back of your hand. You'll be asked specific questions about your qualifications and answering quickly (just as you would make quick decisions as a travel nurse on the floor) will help you make points in the travel nursing job interview. Always present yourself as competent and reliable.
 Write down any questions you may have for the travel nurse manager, and be sure to ask them. Questions regarding available shifts, floating, nurse patient ratios and travel nurse job scheduling will give you insight into the quality of nurse management. Be sure to ask any clinical questions you many have about the travel nurse job. Will you be administering meds or transporting patients? Is the hospital using a computerized patient care system? What type of travel nursing job orientation can you expect?
Smile during the phone interview. Believe it or not, smiling will help convey a positive, upbeat tone which nurse managers consider an asset to their staff – some say they can "hear" the smile in your voice.
Flexibility with dates, shifts and schedules will increase your hiring potential. Make sure the travel nurse manager knows you have a reputation for being prompt and are a team player. Avoid the need for specific requests for time off while on an assignment; however when they are unavoidable be sure to let your Consultant know in advance and be sure to bring this up during the phone interview. Be flexible and offer something in exchange such as an extra weekend or holiday shift.
Keep paper and pen handy so you can take notes. Asking interviewers to repeat themselves may show that you're distracted.
As the interview comes to a close, verify important travel nurse job details such as start date, shift, unit, floor and length of travel nursing job. Some of these details may have changed since your consultant first presented the travel nursing job to you. If the interviewer doesn't specify, ask what the next step is in the travel nurse job interview process. Will the hospital being calling your American Traveler consultant for a follow up, or will they be calling you?
Ensure that you are available for the dates and times discussed in the interview. Enthusiasm for the job is key ... so don't forget to tell the interviewer that you want the travel nurse job, and call your American Traveler consultant immediately after the interview to discuss how things went.
iPhone Winner Loves Travel Nursing!
She's famously friendly with patients and staff and has been travel nursing with American Traveler for five years. "Kara is one of the best," said American Traveler Consultant, Jennifer R., who places the Critical Care Nurse in top assignments in San Francisco, Seattle, Oregon and Wisconsin. Kara recently won the Apple iPhone 3G-S from American Traveler – complete with video capability and compass – ideal for sightseeing and finding her way around new cities!
Kara entered the 3G iPhone contest when she became a fan of American Traveler on Facebook. AND A FAN SHE IS! Kara's been with us her entire travel nursing career, primarily for the personalized service she gets from Jennifer, said the veteran RN.
"Over the years, I've realized the value of having a skilled recruiter like Jennie handle my job search needs. I love the challenge of working in a variety of clinical environments and I love the travel nursing life," said Kara.
Find valuable resources, interview tips, testimonials, inspiring people and places on American Traveler Facebook!
Travel Nursing Brings New Beginnings to Life
Recently featured in Healthcare Traveler, Wendy H., RN, spoke to the devastating financial losses her and her husband incurred as a result of illness. "We lost everything we ever had," said the travel nurse, "Our cars, our house, our furniture—everything was gone to pay off debts."
Working as a staff nurse for a year and with no financial ties other than $1 million in medical bills to pay for her husband's treatment, Wendy decided to travel the country as a travel nurse with American Traveler.
Now with free housing, travel stipends and a boost in pay, Wendy and husband Robert can enjoy life once again. Robert, unable to work, takes care of the house and dogs while Wendy works three shifts a week at the hospital.
Although Wendy's situation is unique, having to 'reinvent' one's life in this day and age is not uncommon – especially in healthcare. Unfortunate financial circumstances are more prevalent than ever, joblessness is at an all time high and people entrenched in decades-long careers have found themselves waiting in the unemployment line. View travel nurse hot jobs now!
THERE'S STILL A HUGE DEMAND FOR QUALIFIED NURSES!
The time to switch to travel nursing is now. Whether you're suffering from nurse burnout, aren't getting the pay or hours you need or are just unhappy with your current situation, a career in travel nursing is waiting in the wings for you to make the next step.
Travel – Close your eyes for a moment and think were you'd rather be. Travel nursing can take you there. Search the country for travel nurse jobs.
Money – Are you under a pay freeze? Experiencing a cut in pay or hours? Travel nursing pays more than most permanent positions. Read more about pay and benefits
Job security – Nurses out of work are turning to travel nursing to reinvigorate careers. Working nurses have made the switch and are traveling to high-demand parts of the country. New Markets Emerge.
Quality of Life – Work three days a week, boost disposable income, save on taxes, enjoy free housing and comprehensive health insurance, advance your career, dine and shop in extraordinary cities, climb mountain peaks, traverse glaciers and see America like never before. Travel Nursing Jobs Boost Morale.
"Just living is not enough. One must have sunshine, freedom, and a little flower." - Hans Christian Anderson.
Tuesday September 01, 2009