Travel Nurse News - Demand is Up
There is a rise in demand for all travel nursing specialties over a year ago, but there are a few categories where demand is rising even faster than average.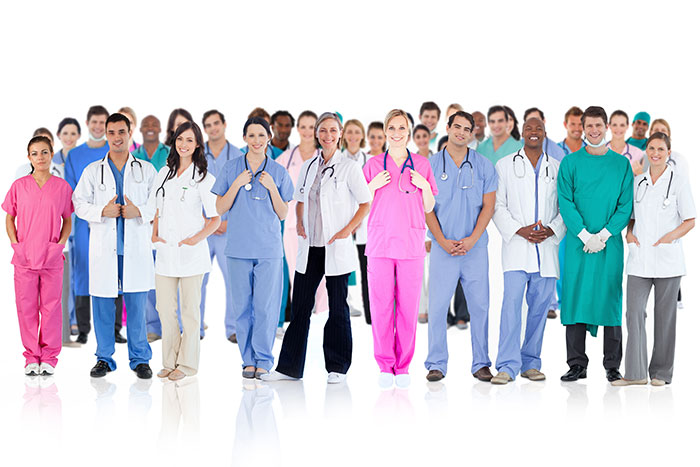 See the Specialties that Lead the Pack
Good News! We are experiencing a rise in demand for all travel nursing specialties over a year ago. But there are a few categories where demand is rising even faster than average.
Infant and Pediatric Specialties Demand is up for NICU and PICU travel nurses, along with specialists in Peds and L&D. Contact one of our travel nursing consultants today to discuss the rewarding possibilities of a job with American Traveler.
OR and ER Operating Room and Emergency Room travel nursing jobs are also undergoing a surge in demand. These specialties are always in demand, but this may really be their moment. Call us today and find out what we've got for you.
Physical Therapy and Occupational Therapy - The large number of aging baby boomers has increased the demand for physical therapists. As the boomers hit retirement age, incidences of illness and injury have increased, along with the need for physical and occupational therapists. pt and ot bonuses In today's market, with increased demand, rehabilitation therapists' salaries are rising. Travel therapist jobs report even higher salaries with stronger benefits than those on permanent staff.
Travel Nurse Housing in Hawaii - The Assignment of a Lifetime
One of the most exotic and enticing of travel nurse jobs is Hawaii travel nursing, but —with the distance involved— many nurses wait for years until the right circumstances fall into place. One of our experienced RN Telemetry nurses (she had been a travel nurse for seven years), decided it was finally time to go to Hawaii and took an assignment on the island of Maui.
Haleakala Crater at Sunrise
Many of our Hawaii travel nurses tell us that they really enjoy their island apartments with their lush natural surroundings and beach views. Maui is a nature-lover's paradise that presents endless opportunity for exploration and adventure. Of course, we all think of sun, sand, and surf when we think of Hawaii, but how about 30 degree weather and snow? Our Hawaii travel nurse sent us this amazing photo of Haleakala Crater at sunrise (above). Haleakala is a dormant volcano that last erupted in 1790. It rises up over 10,000 feet and the temperature drops over 30 degrees.  At the summit, you are actually above the clouds! 
You'll never to run out of things to do in Maui!
Maui nursing jobs could send you on a guided hiking tour of Haleakala State Park where you can watch the sunrise from its famous volcanic crater. Or you could spot a humpback whale on a whale-watching expedition, drive along the scenic Hana highway, refresh and rejuvenate in one of Maui's spas — or spend a day browsing the museums, shops and restaurants of the the historic whaling village of Lahaina. Surrounded by the blue Pacific, you can sportfish, kiteboard, snorkel, scuba, sail, swim, sunbathe or surf. And as far as surfing goes, you can hang ten for yourself, or you can watch the surfers rip up the big waves in Honolua Bay. Either way, Mahalo!
Apply online or contact us today at (800) 884-8788 to find out more about travel nursing in Hawaii or other sun-drenched destinations like Florida, California, Arizona and Texas.
How do recent graduate nurses get hired?
It's a classic case of Catch-22. You can't get a job until you get the experience, but if no one will hire you, how will you ever get the experience? Many people choose nursing because it's considered "recession-proof."
Didn't you used to hear that no matter where you go in life, you'll always be able to find a nursing job? And in boom times, graduate nurses were snatched up as fast as the schools could hand out their diplomas.
But today's healthcare job market has changed. Hospitals aren't hiring like they used to. And with an abundance of candidates to choose from, they may be less willing to hire a newly graduated nurse who requires more training over a seasoned candidate. And travel nursing jobs, because they don't allow for preceptorships or extensive training of new nurses, also require 12 months in a full-time hospital nursing position.
Understand that the difficulty some new grads are experiencing is directly related to the economic downturn. Hospitals will start hiring once overall employment rates rise and incomes improve. But what if you can't wait for that to happen? How do you get the experience you need to qualify for a travel nurse job, or for that matter, any hospital nursing job?
Consider starting out in a nursing field that wasn't your first choice. If the hospital is hiring in a given specialty, and you're qualified, many employment experts would advise you to jump on it. Give it six months to a year and you'll find many more employers willing to give you a second look. This time maybe in your preferred field.
It's an old saying, but it's true. Sometimes it's not what you know, but who you know. Network. Maybe you have a distant acquaintance who works in the field. Ask if you can buy him or her coffee while you brainstorm about getting your career off the ground. Volunteer. Join a community organization. Check the web for social networking groups in your field.
Under-served areas, rural or urban, may be another possible source of employment. Some state and federal programs serve these populations. If you're just considering nursing school, several of these programs offer tuition assistance in exchange for a period of service. Despite the sacrifices they require of applicants, these programs can be competitive — and rewarding.
It may not be your long-term career goal, but working outside of a hospital for a while in an extended care facility or a clinic can build your resume with real life experience until that hospital job opens up.
In support of the community, some local hospitals have a preferred candidate arrangement with nearby nursing schools. But if your local employment market isn't happening for you, think about relocating to areas where demand is higher. Do some research with placement firms and job boards. Recent reports indicate that the US West and Southwest have a more favorable candidate to job-opening ratio. At American Traveler we are currently seeing an uptick in California travel nursing job openings.
Still in Nursing School? Position Yourself for that First Job Now!
Successful job hunters say:
Work as a CNA or Nurse Tech while you're still in school. You may start in a nursing home, transition to a hospital, then transfer into the hospital unit you most want to work in. Learn as much as you can, expose yourself to as much as you can, and nurture your contacts. This is a great time to find out what type of nursing career suits you.
Get your BCLS/ACLS, and PALS while you're still in school. Volunteer whenever you can. And take an internship if available. Some hospitals start interns off in clerical positions and then move them into a more practical environment. In time, interns may be exposed to some of the most dynamic departments like CC and ICU.
Remember your education really begins after you graduate.
Are you an RN with plenty of hospital experience already?
Check out our TOP 10 tips on how to land the travel nursing job you really want »
Thursday October 01, 2009