This Year, Florida Nursing Jobs Mix Business with Super Bowl Fun
Are you a football fan and have a Florida license?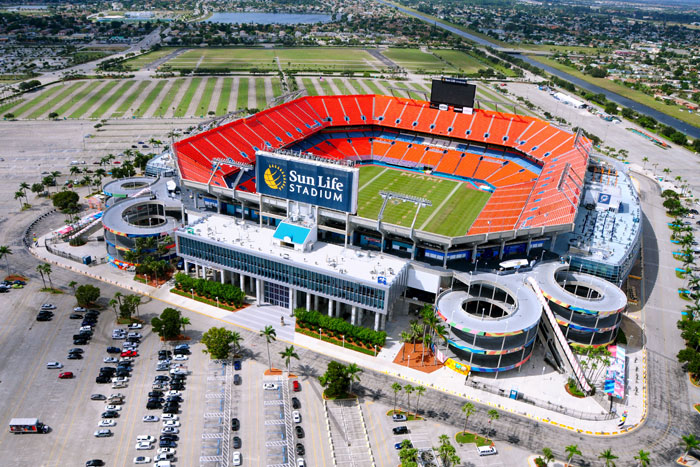 Are you an American Traveler and football fanatic, interested in featured travel nursing jobs? Well, if you have a Florida license in hand, you're in luck. Our quick start positions may be just the ticket—to the Super Bowl XLIV! Our traveling nurses will have plenty of time to line up a nearby assignments, rub shoulders with Florida nurses already here for the fun, and watch the New Orleans Saints and Indianapolis Colts face off Sunday, February 7 at the Sun Life Stadium in Miami.
In the days leading up to the big game, local festivities abound, and there couldn't be a better place to enjoy them than the Sunshine State in wintertime. South Florida temperatures average in the low 70's this time of year, making outdoor events like the Pepsi Super Bowl Fan Jam on February 5 a no-brainer! This event, hosted by Kevin Dillon of HBO's Entourage, will take place at 8th Street and Ocean Drive, featuring singers Rihanna, DJ Irie, Justin Bieber and Nelly Furtado.
If you're looking for a free, non-ticketed affair to get in the Super Bowl mood, check out the Fort Lauderdale Beach Hotel on Saturday, the night before the big game. This ocean view event on February 6 opens the gate at 4, with a live concert beginning at sunset.
If you're a traveling nurse with a love of all things NFL, click here to find out more about Stadium events. The Sun Life Stadium, formerly the Dolphin Stadium, has recently completed an amazing transformation, including but not limited to, flat-screen hi-definition monitors throughout the venue. There's also an interactive football experience at the Game Day Fan Plaza, free of charge and open to the public.
But even if you're not in Miami for the big night, other South Florida cities, like Delray or while working on West Palm Beach travel nursing jobs these places are hosting pre game festivities. Consider the possibilities by applying for Palm Beach County Florida Nursing Jobs close to the action.
Friday January 29, 2010