Travel Nurses Enjoy American Traveler's Florida Spring Gala
To show how much their work means, American Traveler honored our Sunshine State travel nurses with a Florida Spring Traveler Appreciation Party.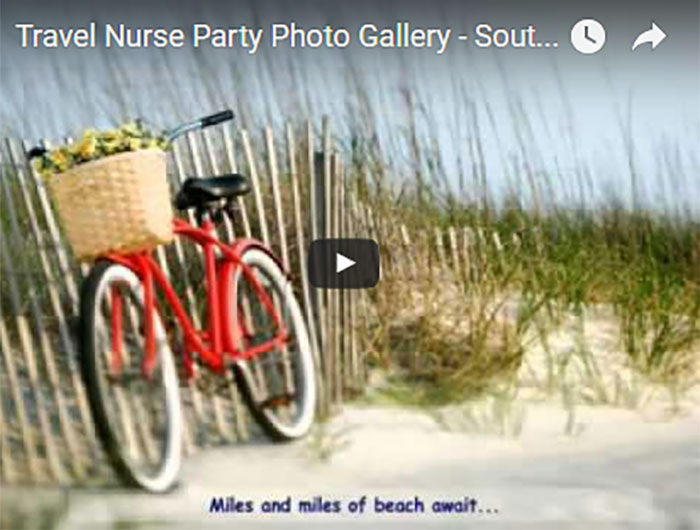 American Traveler has the utmost appreciation and regard for its nationwide workforce; recently, we honored our Sunshine State travel nurses with a Florida Spring Traveler Appreciation Party. It was a special evening for our travel nurse agency, because it allowed us to thank both our working professionals in Florida nursing jobs, as well as members of our corporate staff.
Travel Nurse Jobs in Florida are About Sun and Fun!
Florida travel nursing jobs reveal the true meaning of "another day in paradise." Nursing jobs on the Gulf Coast allow for convenient access to Sanibel Island and Captiva while South Florida travel nurse jobs in Ft. Lauderdale, Palm Beach and other east coast Florida cities make it easy to day cruise to the Bahamas, the Caribbean and U.S. Virgin Islands. There's so much to do and see as a Florida travel nurse you'll keep coming back for more!
We invite travel nurses in all 50 states to click the video link and see pictures of their colleagues kicking up their heels in Florida. It was a night of sharing stories and fun from the nursing career path, over cheese & crackers, pizza, sandwiches and more. Camaraderie hung in the Spring air, thanks to our mix of impressive professionals, ranging from R.N.s new to travel nursing and on a first assignment, to Travelers logging ten years and counting with the company. More fun ensued when guests flirted with the chance to win an iPad2 for referring a qualified friend.
Vice President of Company Recruitment, Mary Kay Hull, was impressed by the high morale at the March party, which put "a spring" in every guest's step. She later commented: "It was so nice to meet so many of our Travelers and to spend time socializing and getting to know them. Hearing about their various geographic and career backgrounds made for a very interesting evening.  We very much appreciate all that they do.  We are so proud to have them represent us."
Mary Kay has expressed American Traveler's sentiments exactly. Since Spring is the season of new beginnings and moving forward, we felt lucky to assemble our amazing Florida travel nurses and encourage them to keep up the good work! As a premiere travel nurse agency, it is our constant goal to continue striving, improving and exceeding the standard in all 50 states! Check out our travel nurse jobs, generous benefits and handsome referral bonuses! Apply online or call 1-800-884-8788 today! You can also like us on Facebook and see travel nurses living large for yourself!
Thursday April 14, 2011