Travel Nurse Jobs in Hawaii Rock, Says Kim J., R.N.!
"Running into seasonal Maui residents like Steve Tyler is just another day in the life of this travel nurse!"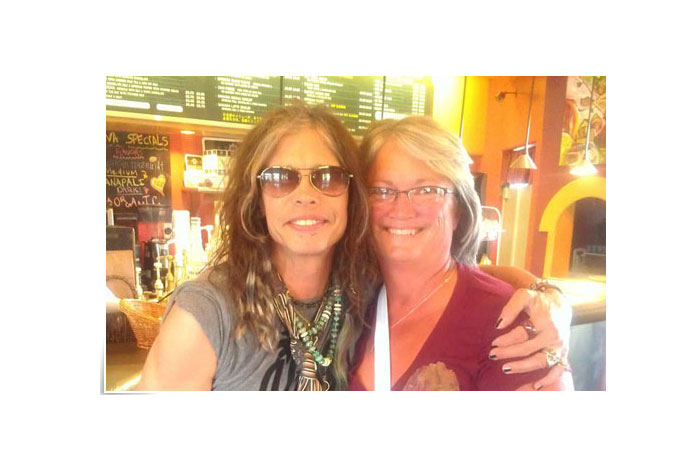 When nurses consider joining forces with a healthcare staffing agency that could land them in any one of the fifty U.S. states, visions of Hawaii might not be the first thing that occurs to them; yet it is a vision that became OR nurse, Kim J.'s reality when she began her  travel nurse job in Maui  in the Fall of 2012. American Traveler got in touch with Kim, so she could share her story about living and loving life in one of the world's most enchanting places.
AT: Hi Kim! Thanks for agreeing to do this interview. Kristin Z., your travel nurse consultant said that when asked if you'd be open to chatting with us you said, "Why not? I am only sitting on the beach listening to the waves lap on the shore today." Do you have lots of days like that?
Kim: Yes, this Hawaii travel nursing jobs has been wonderful enough that I just started my second assignment here in Maui. I work in the OR as an R.N. First Assistant and I love it. I have been asked to extend or stay on as a full time staff member but am going to be a grandma in early June, so I am planning on heading back to Illinois.
AT: That's wonderful news! From everything you've said, it sounds like you're going to have lots of incredible stories to tell your grandchildren—for instance, how you keep running into a certain celebrity on the beach?
Kim: That would be Steve Tyler of Aerosmith fame, yes! He was very gracious to let me have my picture taken with him. Standing in line behind him at the local coffee shop was not something I could ever have imagined! He has a house in Maui and likes to get out just like everyone else. I've been to his concerts, so meeting him in person was icing on the cake, especially since I turned 50 in the 50th state, and it was my birthday month when I met him!
AT: We could not have asked for cooler details! Aside from Maui being a great place for whale and Aerosmith sightings, what are YOUR top tips for enjoying yourself there?
Kim: Well, the #1 tip is to just relax and go with the flow! Things here are different than being on the mainland. No matter how bad of a day you think you've had, just step outside and see the sun and palm trees and go for a nice long walk on the beach—that's my fitness regime. It didn't take me long to realize I'd never run out of things to do: concerts, hiking, kayaking, shopping… My husband, who came with me on this travel nurse assignment, has joined me in seeing and doing it all!
AT: It's great that you say that, because our next question is where a travel nurse can get a good meal in Maui!
Kim: My favorite places to eat are the ones the locals eat at! Everywhere serves HUGE portions! I've had the best seared Ahi and sushi here as well as some pretty good gluten free pizza and nachos that are to die for. My favorite treat is U'ulani's. They have shaved ice with ice cream on the bottom…to die for yummy!
AT: You have been unbelievably helpful, Kim, in creating a clear vision in our minds of what it's like to be a travel nurse in Maui. Congratulations. We're jealous!
Could a Travel Nurse Job in a Coveted Tourist Destination Be in the Cards for you Too?
Call American Traveler at 1-800-884-8788 or apply online. We have nursing jobs as well as travel nurse opportunities that last an average of 3 months, from coast to coast, with the kind of flexibility to extend the assignment or move on to something even better. You won't know into you apply. Hurry! Your story is waiting to be told!
Tuesday March 12, 2013