Physical Therapists Gather at CPTA Conference
Located just 20 miles south of Los Angeles, nestled along one of the west coast's most picturesque waterfronts, Long Beach is a pretty sweet place to catch up on the latest news in the physical therapy field.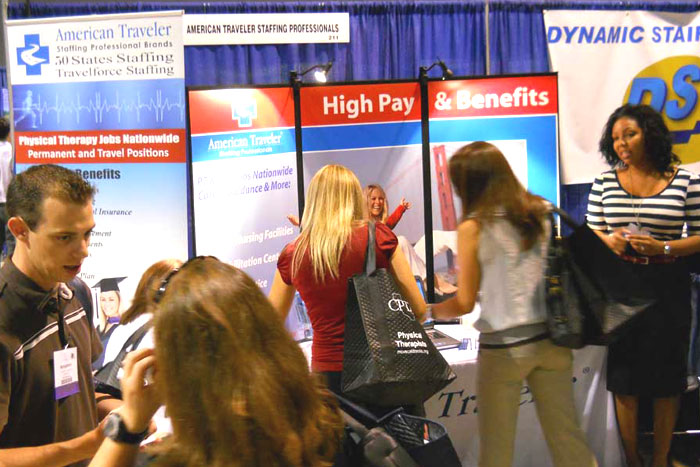 California Physical Therapy Association Conference Report: The inside scoop on our iPad 2 raffle winner, the 'Barefoot Debate', Recent PT School Grads and the Tax Advantage Plan
Located just 20 miles south of Los Angeles, nestled along one of the west coast's most picturesque waterfronts, Long Beach is a pretty sweet place to catch up on the latest news in the physical therapy field.
Conventions like the CPTA are a great resource for practitioners seeking to connect with other PT's and learn more about the latest developments in the industry. And conferences are also a great opportunity to expand your employment horizons and think about a PT career in a new way. As part of American Traveler's program to reach out to allied health professionals, Dennis Grandic, PT, Clinical Resource Manager and Account Manager for Allied Health — and Kimberly Mayhue, Account Manager — two of American Traveler's key contacts for allied health job seekers — attended the recent California Physical Therapy Association convention in Long Beach.
The 2011 CPTA featured noteworthy physical therapy experts like John Meyer PT, DPT, OCS, FAFS and Irene Davis PT, PhD who, respectively, led classes in Intraarticular Hip Pathology and current approaches to treating runners. Dennis reports that Dr. Davis' class on the "Barefoot Debate" triggered a lively discussion. Changes in Medicare regulations were also a frequent topic of conversation among physical therapists and healthcare employers alike.
In addition to sessions that focused on treatment and practice, there were also presentations on legal issues and payment policies, along with exhibitors demonstrating new orthopedic and administrative technologies.
Many of the attendees who Dennis and Kimberly talked to were curious to know exactly what is a travel therapist and how travel therapy jobs might enhance their careers.
Kimberly put it this way, "PT Travel jobs are a great way to try before you buy." What if you think you might enjoy working in a particular area of the country, but you're not 100% sure? Before you pull up stakes and make what could be a huge commitment, you can try out a new location with a traveling physical therapy job.
And if everything goes well, employers often extend positions beyond the original assignment length. In fact, many make offers of permanent employment. But if you still think there's something better out there for you … no harm, no foul. At American Traveler, PT's have an extensive array of travel jobs from which to choose.
Dennis and Kimberly also found many conference participants were interested in American Traveler's tax advantage plan. Besides offering compensation that is often above and beyond that of full-time staff positions, travel therapy jobs can provide even more take-home pay through the tax advantage plan.
And, no surprise, one of Dennis and Kimberly's most popular talking points was who would win American Traveler's iPad 2raffle, held at the close of the conference. The lucky winner was Melina A., a physical therapist with three years' experience who's looking to travel. We wish her much happy surfing, of the digital kind.
Conferences like the CPTA also attract physical therapy students and recent grads who are looking to get a better understanding of what "real working life" is like. In search of more information about graduate employment, several students at the CPTA wanted to know if American Traveler worked with new grads and with students who are about to graduate. The answer is a resounding, "Yes! American Traveler places new grad hires in permanent and contract positions." Travel therapy is a particularly attractive option for recent grads who want to try out different locales, different practice concentrations or types of physical therapy facilities, to see which suits them best.
It's always energizing and educational to connect with the physical therapists we work with, whether they're seasoned practitioners or professionals who are just starting out. But there's no need to wait for the next conference; feel free to contact us at 800-884-8788 if you have any questions about your physical therapy career.
Like the idea of living in Long Beach after the conference ends? Or Sacramento? Or Monterey? California physical therapist jobs with American Traveler could be a great way to sample the west coast lifestyle.
Friday October 07, 2011