American Traveler: Happy Mother's Day to global Moms in Nursing
Happy Mothers Day to ALL registered nurses who have the pleasure of being a mother.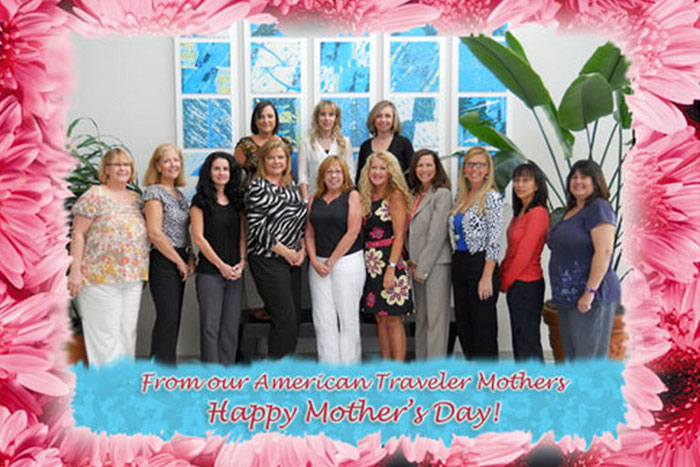 Where RNs are concerned, Mother's Day is a bit of a double entendre; it's a great time to appreciate nurses, for example the ones delivering and caring for mothers and babies in L&D and NICU jobs—and it's also a perfect opportunity to wish ALL registered nurses, many whom are mothers themselves, a happy Mother's Day. And still yet, it's a day to think about and celebrate Mom, whether you are one or not. Mother's Day is a gentle reminder to take time from your busy nursing career, pick up the phone and call Mom—as well as taking time to enjoy a little pampering if you're on the receiving end this holiday.
Sharing maternal stories from both the nurse and patient perspective adds an extra smile to this lovely day in May. The repertoire includes both heartwarming and enterprising tales, ranging from current hot jobs in pediatric nursing, to RNs who decorated the NICU in time for Mother's Day, to trail blazers from our nursing career path who credit Mom for the inspiration to become a nurse. Whether you work in travel nurse, permanent or therapy jobs, these stories appeal to everyone on Mother's Day; see the footnote to read them in their entirety.
The ladies pictured below are both Moms and equally dedicated corporate employees. They all do a great job for us, while taking excellent care of their families at the same time. We hope you'll join us in wishing every last Mom the very best Mother's Day possible—we look forward to talking to you when you call 1-800-884-8788 or apply online for nursing jobs from coast to coast—that's 50 states full of hard working Moms just like you, or someone dear to your heart! Happy Mother's Day everyone!
Wednesday May 11, 2011