Travel Nurse Career Opportunities at VA Magnet Facility Hospital
Seven of the 11 health care organizations in the Fortune 100 Best Companies to Work For are Magnet-recognized facilities or have Magnet facilities in their system, according to the American Nurses Credentialing Center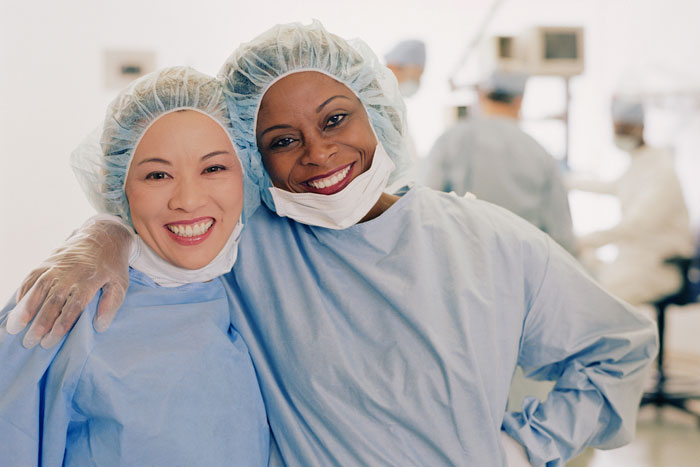 "Seven of the 11 health care organizations in the Fortune 100 Best Companies to Work For are Magnet-recognized facilities or have Magnet facilities in their system." -- American Nurses Credentialing Center
Virginia Hospital Center achieving "Magnet Hospital" status reminded us of the influence Magnets have on the nursing profession. Even short-term travel nurse assignments at these centers of excellence can enhance future nursing career opportunities.
Nursing staff at magnet hospitals earn on average 4.8% more than colleagues at non-magnet hospitals, according to a salary survey of 1,400 nurses. Nurses employed at magnet hospitals also tend to have higher education levels, enhanced leadership capabilities, a high-level of professional nursing practice, and are evaluated based on patient outcomes, all of which may contribute to higher wages.
New Addition to Magnet Hospital Community
Virginia Hospital Center is the newest addition to this exclusive group becoming only the 401st healthcare facility to receive Magnet status. VHC is a 342-bed not-for-profit, teaching facility that has provided comprehensive healthcare to the Washington, D.C. metropolitan area for 70 years. VHC has also been recently named as one of America's 100 Top Hospitals and in the 50 Top Cardiovascular Hospitals nationally.
Travel Nurse Amanda B. of American Traveler Staffing Professionals was not surprised that Virginia Hospital Center had attained Magnet status. Speaking of her travel assignment at VHC, Amanda noted,
"I knew the first day I started here that the quality of patient care at Virginia Hospital Center was excellent. I immediately felt like part of the team and collaboration is what makes this unit so strong. The nurses here work together to go above and beyond to meet their patient's needs. The patient satisfaction levels are outstanding…I am so privileged to have worked at such a wonderful facility with exceptional nurses! I greatly value my time spent here during this process, as I know I have grown professionally in a way that I wouldn't have elsewhere. The nurses truly love what they do and that makes for a very enjoyable work environment!"
Rewarding Travel Nurse Career Opportunities
Magnet hospitals offer nursing professionals the opportunity to learn best nursing practices in a collaborative environment. These healthcare facilities constantly evaluate their processes for improvement, invest in ongoing nursing education, and offer career development to strive towards nursing excellence. Acquiring Magnet hospital experience will enhance career opportunities for nursing professionals by upgrading their skills and leadership capabilities.
Diane Vilela, Account Manager at American Traveler, who has experience placing nursing professionals at Magnet hospitals explains, "American Traveler's business relationship with Virginia Hospital Center coupled with our ability to place highly skilled travel nurses at Magnet facilities makes for a successful partnership, not only for both businesses, but it's also the perfect nursing job connection for our seasoned Registered Nurses."
Magnet Status Benefits are Widespread
The American Nurses Credentialing Center (ANCC) Magnet Recognition Program®"serves as the gold standard for nursing excellence." Hospitals must pass an extensive review process by the ANCC to achieve Magnet status.
The benefits of Magnet hospitals are widespread:
Patients report higher than average satisfaction ratings.
Nursing staff experience higher job satisfaction ratings.
Hospitals are more efficient with low employee turnover and injury rates.
But it doesn't stop there, the community in which the Magnet hospital resides benefits from having a world-class healthcare facility in their midst. Even still, the nation as a whole benefits from nursing professionals who gain experience at Magnet hospitals and then move on to other healthcare facilities to teach others' the latest best practices in nursing.
Interesting Facts
8 of the top 10 US News & World Report Honor Roll of America's Best Hospitalsare ANCC-designated Magnet organizations.
6 of the top 8 Children's Hospitals have Magnet designations.
There are only 401 Magnet hospitals out of approximately 6,000 healthcare facilities nationwide.
Contact American Traveler Staffing Professionals at 800-884-8788 or apply online to learn how you can acquire Magnet hospital experience and elevate your nursing career.
Contributing Author: Debbie Bacurin, RN, Clinical Account Manager at American Traveler Staffing
Tuesday April 15, 2014