Home Health Nursing Jobs Entail Fall-proofing Patient Homes
Home Health nursing Jobs entail fall-proofing patient homes.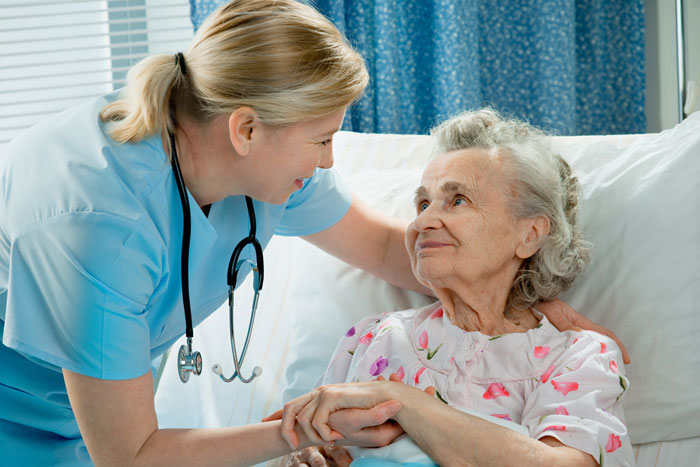 In the late 80′s, a TV commercial starring the elderly woman who cried, "Help, I've fallen and I can't get up! generated wide-spread awareness that senior citizens are prone to nasty spills. We were relieved it was just an actress and that the pendant she wore, "Lifecall", dispatched 911.
Unfortunately, in real life, falls among the elderly are the leading cause of both fatal and non-fatal injuries. It is estimated that 30% of people over age 65 will fall each year. New studies show that high blood pressure—a condition more likely to appear in older people—can alter the flow of blood in the brain and lead to falls.
Fortunately, physical therapy is foremost among prescribed methods of treatment and rehabilitation for seniors. Because the elderly represent some of the most vulnerable patients, many of them receive help when physical therapists call on them at home in home health nursing jobs.
Ironically, "home sweet home" can be a dangerous place for the elderly, as over half the falls treated in ERs report they occurred inside the victim's house. Physical therapists can decrease these grim numbers by counseling their patients, and helping them fall-proof their homes.
Here, we offer room-by-room tips on fall-proofing. In order to make each tip more memorable and something your patients will enjoy memorizing, we've turned each suggestion into a haiku poem—because safety can be short and sweet!
The Living Room
Patients, donate your throw rugs!
Make your entire home rug-free
Allow lots of walk space.
Offices, TV rooms & Bedrooms
PatIents, is your floor cord-free?
Congrats! You are in top form here.
But, wait. How about the stairs?
Stairs
For the safest stairs, install two sets of hand-rails
Keep all stairways free of clutter
Take your time moving
Bathroom
Patients, keep your night light on
Install rails in the bathtub
Put down non-skid mats
This is a mere scratching of the surface in terms of making homes safe for seniors. Supplement your efforts, by taking a short tour of the patient's home during home health jobs visits to ensure the safety instructions imparted here are being observed.
Follow up with:
Helping to rearrange furniture if necessary
Providing referrals (seniors can always benefit from inexpensive care-providers who help with cooking, cleaning and shopping)
With physical therapists' help, seniors regain their mobility and independence. Remember what an important service physical therapy provides, particularly in states with dense populations of Baby Boomers. Florida nursing jobs represent the opportunity to work with more seniors than other states. Wherever you go in your travel nursing jobs, physical therapy is on record at the U.S. Bureau of Labor Statistics as being on the rise through the year 2016.
Albeit home-bound or ambulatory, plenty of seniors are, or will be, in need of your care. Apply for home health nursing jobs at a travel nurse staffing company today!
Wednesday May 26, 2010