Florida Travel Nurses Enjoyed a Spring Break on Us!
Wednesday, March 14th was no simple day for American Traveler. It just happened to be the date of our annual appreciation party for R.N.s and corporate staff.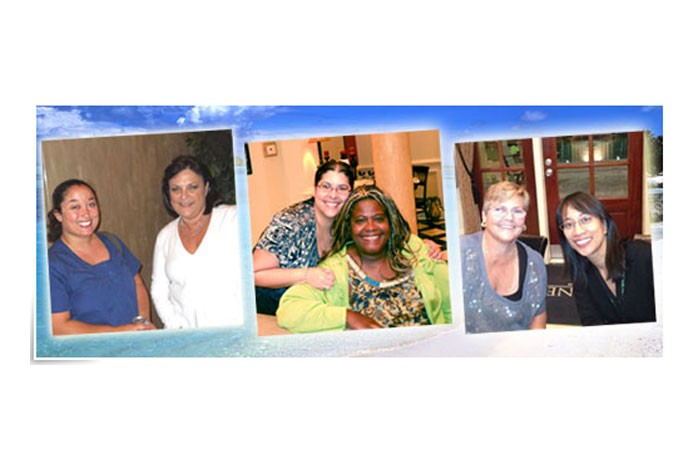 Details on the American Traveler Spring Appreciation Party
Wednesday, March 14th was no ordinary hump day for American Traveler. It just happened to be the date of our annual appreciation party for R.N.s and corporate staff. Travel nurses enjoy a Florida spring appreciation party, and it was our pleasure to see the return of wonderful stories about the travel nurse lifestyle and other rewards found along the nursing career path. Our guests came together in Boynton Beach, where good food and camaraderie passed the night. We hope you'll enjoy a few of the photographs saved from this event, where door prizes and goody bags were on the menu too.
From left to right, on first picture travel RN (left) & Joyce Streem (right), Senior Consultant; second picture Brandy Kapke (left), Assignment Advisor with Antoinette McCrary, R.N. (right); third picture  Dorothy Maloney, R.N. (left) and Amy Roll, (right) Consultant.
Vice President of Recruitment, Mary Kay Hull who also enjoyed the party, remarked that the guests she spoke with are truly amazing people. Case in point, Antoinette McCrary, R.N.—as young looking as she is at heart, shared her proud status of grandmother! We were just as surprised to learn of the storms Antoinette has weathered—literally! The year before joining American Traveler, she braved tornadoes that ravaged her home state of Alabama. Antoinette, who lost her SUV in the storm, impressed everyone with her story of fitting everything she needed for her travel nurse job into a small 2 seater Pontiac. Way to go, Antoinette; you are organized, resourceful and brave!
Other admirable and inspiring guests included Dorothy Maloney, R.N. Our staff applauds a team member who lives up to the company name! Dorothy, a consummate American Traveler, has let her travel nursing career take her from coast to coast. Since 2004, she has regaled us with stories from the American road, including travel nurse jobs in Arizona, California, Pennsylvania, Maryland, Virginia, Connecticut and, most recently, a Florida nursing job—the reason we got to enjoy her company last month.
Want to Become an American Traveler?
Though we put the spotlight on these two travelers, we want everyone in attendance that night to know how appreciative we are of their talents and hard work; the same goes for everyone on the American Traveler team who couldn't be with us for the party. It's professionals like you who make the delivery of top tier healthcare possible. If you or someone you know is searching for high paying and rewarding nursing jobs apply online or call 800-884-8788 today. We have R.N. and therapy jobs in all 50 U.S. states and offer referral bonuses! There's no time like the present to enjoy free private housing and other great travel nursing benefits. We hope to see you soon!
Tuesday April 10, 2012