Alaska Travel Nurse Jobs Reel in the Summer Fun!
In June, the charming town of Seward, Alaska, hosts its annual Seward's Halibut Tournament and this travel nurse had the time of her life!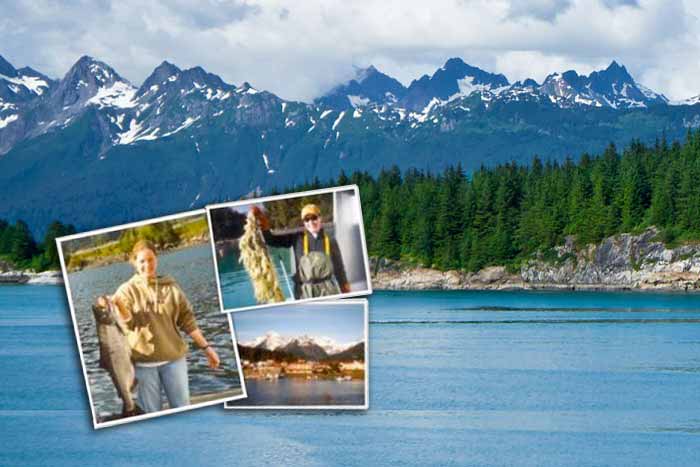 Find Out More on this June 1st-June 30 Summer Event Here!
In June, the charming town of Seward Alaska, just 126 miles south of Anchorage, hosts its annual Seward's Halibut Tournament; the event is well underway with weeks to go! If you're an outdoor-loving R.N. working in Alaska travel nurse jobs, this is your chance to mingle with early season visitors and anglers, hop a chartered vessel and fish with the best of 'em; there are daily and overall prizes for the largest halibut caught, with admission starting at $10 for the day and $25 for a 3-day "weekender". Winners and the weight of their catch (some reel in whoppers over 80 pounds!), are available on the tournament website, where you can pull up directions, transportation information and entertainment offerings in Seward, known for its historic downtown district, art shops and galleries.
On this page, you see pictures of travel nurse Amy B., RN During her Alaska travel nursing job, Amy got close to nature and enjoyed some great fishing!
Fishing for the Perfect Summer Travel Nursing Job?
Alaska travel nurse jobs in the summertime are perfect for those R.N.s looking to commune with nature and escape the intense heat other states are known for this time of year. Averaging day-time temperatures in the 50's, Alaska nursing jobs will have you "hooked" when it comes to fishing, nature excursions and sporting expeditions. If you're looking for a travel nurse or therapist career in an exciting new frontier, call 1-800-884-8788 or apply online using the form on this page now! We have high paying nursing jobs in 50 U.S. states! Wherever you land this summer, we wish a happy season to all our travelers—enjoy your place in the sun!
Monday June 06, 2011